Sahana is just 10 years old, but she is already suffering the first symptoms of this strange disease.
When a tiny bark-like wart began to grow on Sahana's face four months ago, her father was not too worried. But as the months passed, his daughter's wart began to spread across her face. Her father grew concerned and decided to travel south from his village to the Bangladeshi capital, Dhaka, to seek medical aid.
Now doctors fear that 10-year-old Sahana Khatun might be the first female to be suffering from so-called 'tree man syndrome'. 
If their diagnosis turns out to be correct, Sahana will join a small group worldwide with epidermodysplasia verruciformis, a rare genetic disease that produces an excessive growth of scaly, bark-like tissue. These growths particularly affect the hands and feet, giving sufferers the appearance of turning into trees.
There are very few known cases of this disease and, until now, they had always been men. One sufferer, 27-year-old Abul Bajandar, had hands that were so consumed by the growths he was unable to touch his wife and child.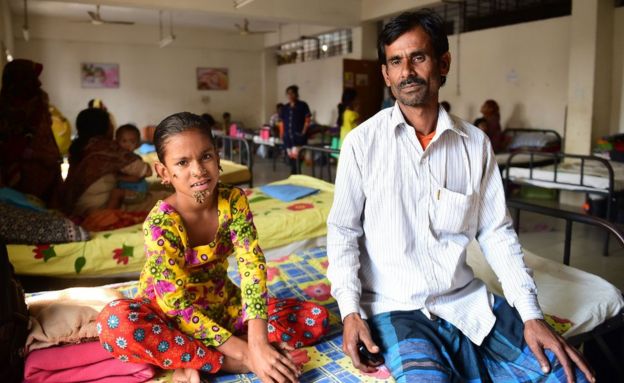 In January 2016, Bajandar was admitted to hospital to undergo a series of 16 operations which only came to an end last month. Doctors removed a total of 5kg of growths from his hands.
For now, there is little doctors can say to console Mohammad Shahjahan, Sahana's anxious father. 'We are very poor. My daughter lost her mother when she was only six. I really hope that the doctors will remove the barks from my beautiful daughter's face,' he told AFP.
Doctors hope that Sahana will turn out to have a less aggressive strain of the illness and that her recovery from the illness will be speedy.
[Via BBC]