Their plan involves firing four missiles at the Pacific island 'in order to interdict the enemy forces on major military bases on Guam and to signal a crucial warning to the United States'. Kim Jong-un has ordered the North Korean army to finish developing the plan by the middle of this month.
The KCNA report claims that the missiles 'will fly 3,356.7 km for 1,065 seconds and hit the waters 30 to 40 km away from Guam.' If Pyongyang makes good on its threat it will be the first time North Korean missiles have struck so close to US territory. The choice of target is especially significant: the island is America's base of operations in the Korean Peninsula.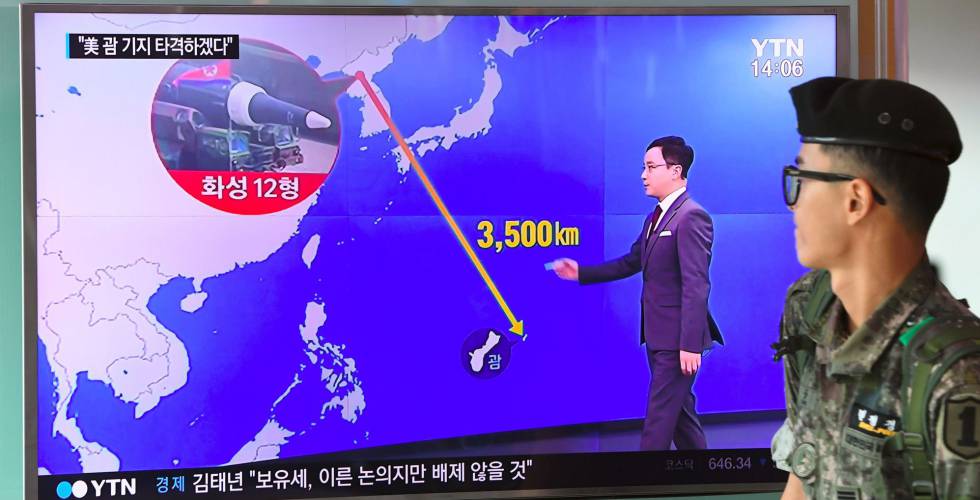 Agence France-Presse (AFP)
The communist regime's defiant warning comes after an escalation in the war of words between Trump and Kim. Tensions flared after North Korea assured that it would continue to develop its nuclear weapons and missiles programmes despite UN sanctions.
For Kim Rak-gyom – the Korean People's Army commander in charge of the operation – the attack is being considered because 'Sound dialogue is not possible with such a guy bereft of reason and only absolute force can work on him.'
Both leaders seem unconcerned that their bellicose posturing has sown fear and unease among the 160,000 inhabitants of Guam – an island that has suddenly found itself in the centre of a tug of war between two unstable men desperate to prove their power.