'the way the kids look at their ball mama is so sad' 
In Saudi Arabia there are two major problems with the way they censor women's bodies. One is the fact that they believe it is necessary and correct to do so in the first place. The second problem is that a chimpanzee with a crash course in digital retouching would do a better, more dignified job than whoever is currently doing it.
We also saw this phenomenon in Iran when Iranian TV used MS Paint to 'colour in' Charlize Theron's cleavage at the Oscars. But the following Saudi Arabian ad for an inflatable pool might be the best example yet.
The original tweet was posted by @SilenRuins and, although it looks like his account was subsequently deleted, the tweet was retweeted 89,000 times and liked 150,000 times. He wrote 'Saudi censorship is just fucking hilarious. The woman just became a ball' and posted the original image alongside the doctored one.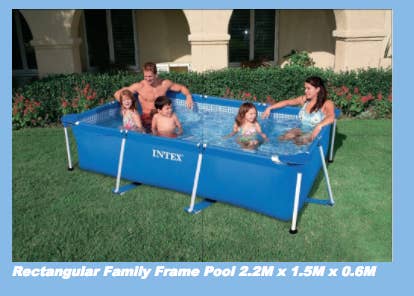 The original is from an INTEX catalogue. The image features the classic nuclear family – mummy, daddy, tyke 1, tyke 2 tyke 3 – all wearing swimsuits and big smiles in the giant blue upside-down tent they're using as a swimming pool.
In the Saudi version of the ad however, dark t-shirts have been painted onto daddy and the kids, covering up every bit of their torsos. And as for mummy... well, she has the dubious honour of being turned into a Winnie the Pooh beach ball. No burkini or niqab for her... not even a giant tarpaulin that says 'I should be in the kitchen but my fabulous husband has let me come out to play.' 
They erased the lady from existence and replaced her with a plastic blow-up ball. A ball featuring the most mentally retarded Disney character of them all...
Even huge multinationals like Ikea play along with the censorship when they sell in Saudi Arabia.
And it's not as if in-store advertising is any more subtle. 
Although the issue is serious, the image is so absurd that it's hard to resist making jokes about it.