How has a photo of some git checking out the talent while he's out with his girlfriend become a meme that represents all of us?
By: E.M.C.
More often than not, stock photos look like images taken from the surreal dreaming of a nutcase in a coma. To give a few examples:
Once in a while, one of these pearls is discovered by an office worker without much to do and winds up being tampered with and turned into a meme for everyone's use and enjoyment.
According to knowyourmeme.com, the photograph at the heart of this story appeared for the first time last February on _dekhbhai_'s Instagram account, where it was uploaded with the phrase 'tag that friend who falls in love every month'.
After almost 30,000 likes, the image was forgotten for a few months until the 19th of this month when a Twitter user shared it, overlaying captions on the characters, and making the quip that the 'distracted boyfriend' represents the youth, his girlfriend capitalism and the girl he's eyeing up socialism.
In the next few days, some of these images got more than 100,000 retweets.
We've just been witness to the birth of a meme.
Some call it 'man looking at other woman'.
But we're more into 'distracted boyfriend'.
But, as often happens with stock photos, this is just one of several from a series in which a single concept is represented in different ways to adapt to the specific needs of the client, and the distracted boyfriend turns out to be a lot more of an arsehole than we may have first imagined...
And while you propose to her? Are you kidding me?
And rummaging through Shutterstock we find out the situation was even more complicated.
It seems it wasn't just the shithead, inattentive boyfriend's eyes that were straying...
... it was a fair bit more than that.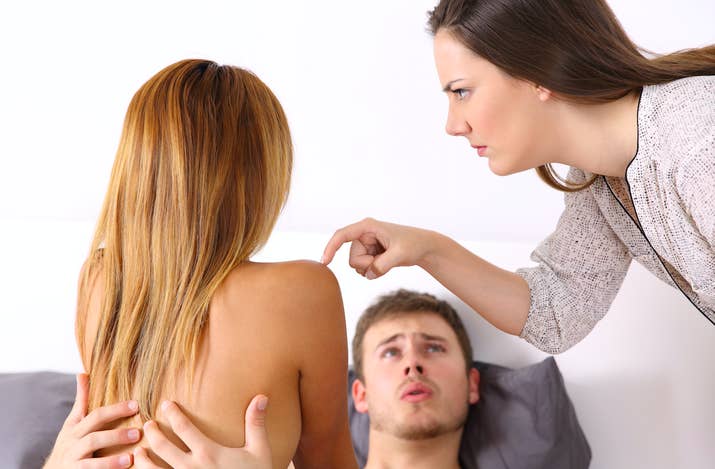 And she, in the end, decides to follow suit.
Oh my God, I only hope she doesn't marry this chump.
In any case, this meme has reached unprecedented levels of online metalanguage.
But in the end, like all memes, these are nothing more than an excuse to waste some time while you forget what you're meant to be doing.