'Rosa wasn't just a keeper at Hamerton Zoo – she WAS Hamerton Zoo'
'We were near the tiger enclosure when a zookeeper shouted at us to get out of the park immediately.' This occurred at 11.45 in the morning: the moment they discovered the lifeless body of  Rosa King, zookeeper at Hamerton Zoo Park in Cambridgeshire. She had been killed half an hour earlier by one of the tigers she looked after.
Peter Davis, who was at the zoo with his family, said he heard a 'commotion' near the enclosure where Ms King was attacked. 
'There was a guy at the enclosure where the incident happened and he came running past me. He was taking photographs so he ran off to get some help for something, we didn't know what. The next minute half a dozen zookeepers came running down to the enclosure. One of the girls, we just heard her scream. And one of the girls shouted "run"'.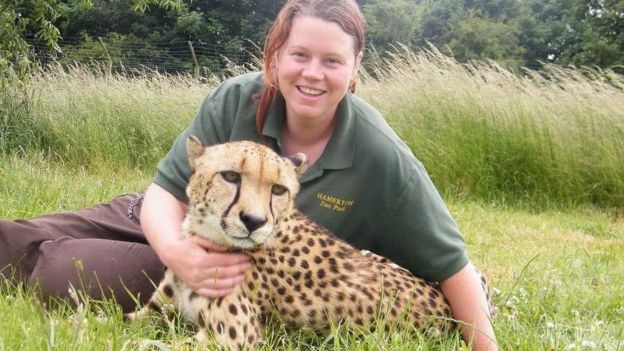 'This appears to have been a freak accident,' Hamerton Zoo Park said in a statement. 'At no point during the incident did any animals escape their enclosures and at no point was public safety affected in any way. All our thoughts and sympathies are with our colleagues, friends and families at this dreadful time.'
King, who was 33, was more than just another zookeeper according to her friend, Garry Chisholm, a wildlife photographer. He said she was the 'focal point' and 'shining light' of the wildlife park.
'Rosa wasn't just a keeper at Hamerton Zoo – she WAS Hamerton Zoo. Her passion for the animals in her care was exceptional though her favourites were undoubtedly the cheetahs which she would refer to as her pride and joy.'
'She will be greatly missed, not just by me but by everyone who came to know her. The only consolation I can take from today's tragic events is that Rosa is now reunited with her beloved Ares the cheetah and Blizzard and Ladybelle her beloved tigers.'
The wildlife park opened its doors in June 1990. A new enclosure for Malayan tigers was opened in July last year.
Cambridgeshire Constabulary said the tiger involved was believed to be fine, after Twitter users expressed fears over what would happen to the animal. The incident is being considered an isolated event and not suspicious.
Nonetheless, this tragedy serves as yet another horrific reminder of the fact that wild animals don't belong in captivity, and that the very idea of a zoo is a mistake from its conception.
[Via BBC]